The Best Consumer Product Safety Compliance Program Software
Comply PRO+ is your #1 Consumer Product Safety Compliance Program Framework!
Comply PRO+ Dashboard
See and manage all your compliance activities from your customizable dashboard once you migrate and build out your data. Organize your dashboard to what is relevant to your role, and executives and owners can see all compliance documents, events, and compliance-related activities.
Product Data Stats
Labs and expiring Test Reports
Factory and Supplier Data
Audits & Inspections
Amazon Stats
Incident Reporting
Upcoming Tasks
Company System Stats
THE CPSC NOT ONLY EXPECTS COMPANIES TO HAVE EFFECTIVE COMPLIANCE PROGRAMS IN PLACE, BUT ALSO TO BE ABLE TO PROPERLY DOCUMENT THESE PROCESSES.
Build Actionable Product Data
Quickly build out your data with our importer to show proof of compliance. See detailed information regarding the product type, status, sales channels, and Amazon marketplaces, and track licensed and children's products.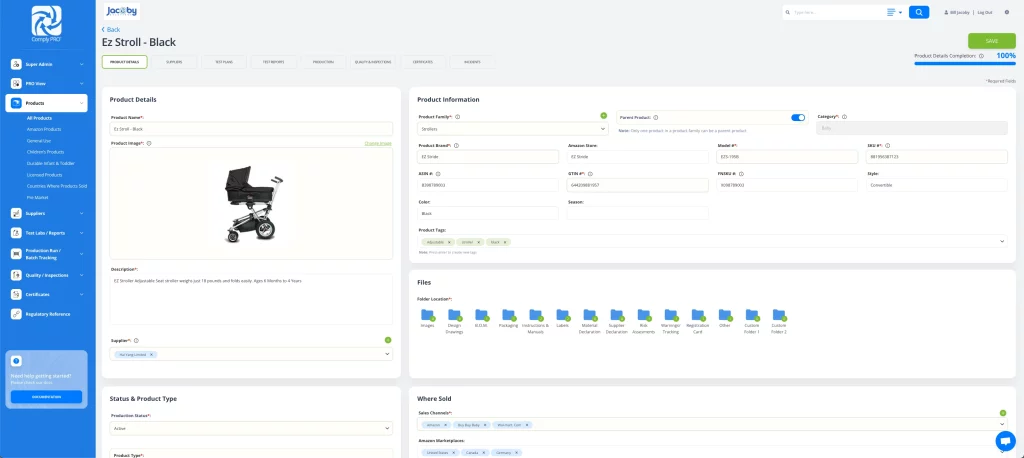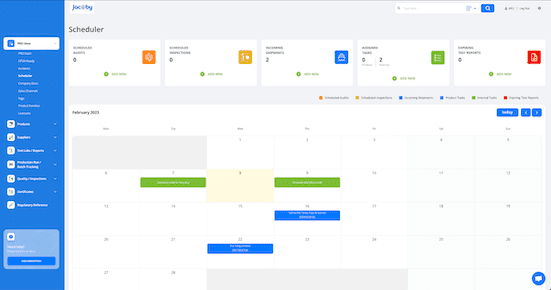 Schedule and Manage Upcoming Tasks and Compliance Related Activities
See expiring test reports and assigned project tasks, and track upcoming audits, inspections, and incoming shipments.
CPSIA Ready Live shows the status of Children's Products.
See the status of every children's product you sell and see expiring test reports, current tracking labels, and certificates. All green checkmarks indicate you have documents in place for all products.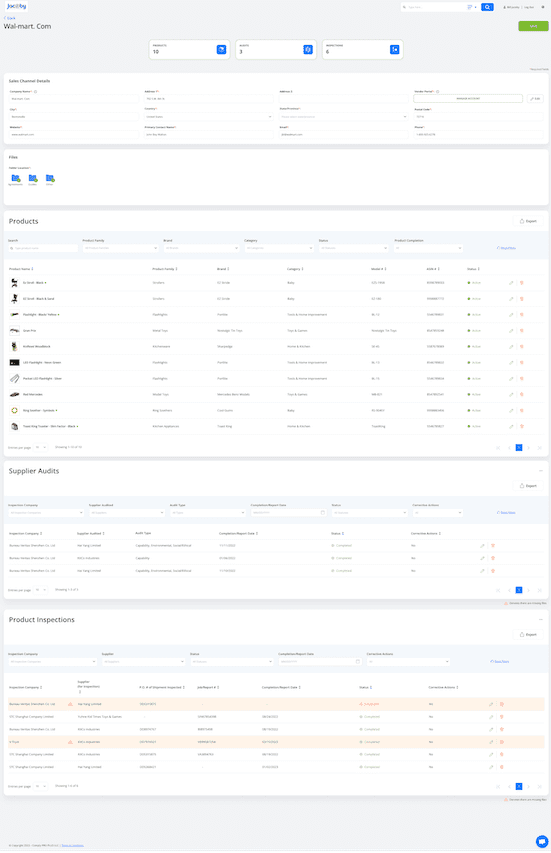 Manage Sales Channel and Vendor Compliance Related Activities
Build Sales channels and assign products to sales channels to track products and see the associated data in channel stat boxes.
Add custom product fields to capture vendor-related product information.
An Amazon Sales channel is prebuilt into every plan, and you can import your Amazon data via our EZ Excel Uploader. Create sales channels for Walmart, Shopify, Target, or others to see products sold and manage required compliance-related activities.
You can view all Audits or Inspections required by the sales channel.
Manage multiple sales channel vendor compliance from the page and create custom file folders to store vendor guides and vendor-related material.
Be Trade Show Sales Ready by proactively building your compliance process to show Sellers proof of Compliance before you launch new products and launch them at industry trade shows!
Company Level Documents Section for your Policies & Compliance Program Documents.
Store your compliance program policies and SOPs here. Hide framework folders you do not use and create custom folders to build documentation around how you run your company.

Show Proof of Compliance for your Licensed Products.
Track and Manage your licensed products' compliance and use the system to show Proof of Compliance to Licensors to adhere to licensing agreements.
Build your Technical Files from the ideation stage through the product launch.
Build your documentation from the prototyping stage to capture all required documents to sell globally. Hide framework folders you do not use and Create Custom Folders in every section.
Exercise "Due Care" with your Suppliers to hold them accountable
Manage Factory / Supplier data, Policies Training. Store agreements, policies, and forms; see stats on Products, Audits, and Inspections.
Test Report Detail & Tagging
Use tags to identify the type of test report to provide a more granular search. Reports are sorted under the lab that issues the report and test reports appear under associated products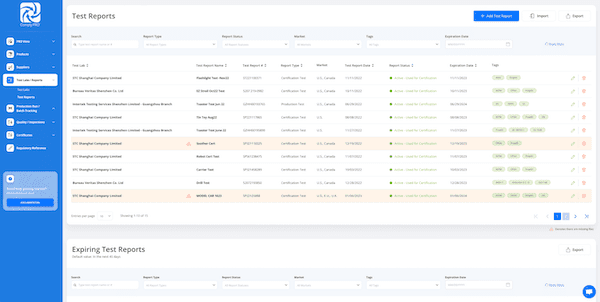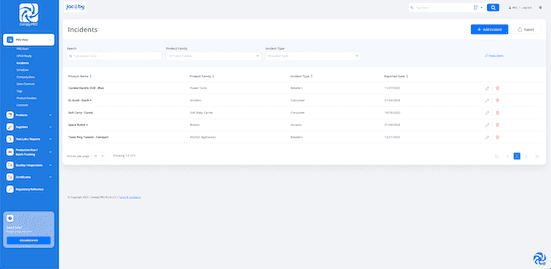 You are legally obligated to report incidents immediately if you are a manufacturer, importer, distributor, or retailer of consumer products. Store Incidents on the product level to see trends or to identify potential design issues.
Supplier Audit Management
Enter and track scheduled supplier audits that retailers may require, and see the list of audits and search by Supplier, the Inspection company, and Sales Channel who requested the audit.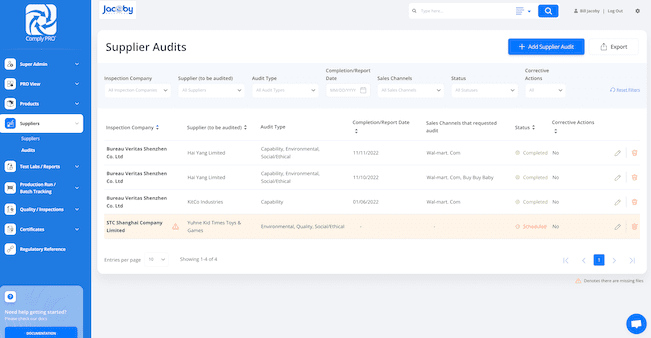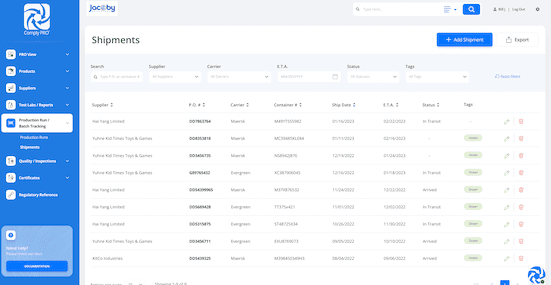 Enter ocean and express air shipments for each production run on the scheduler and see incoming shipments on your calendar. Search by, supplier, carrier, status and tags assigned. 
Production Run/ Batch Tracking
Document every production run from the issued purchase order and capture all the information needed for import. Tracking label/ batch tracking plus capture ocean and express shipment information associated with each shipment
Quality & Product Inspections
Schedule inspections on the scheduler, track all product inspections, and sort by P.O., the supplier inspection company, and sales channel. Upload all your internal quality reports they get associated with the products inspected.
Manage all product certificates on the product level and associate them with tracking labels. Track Children's product certificates, General Certificates of Conformance, Declaration of Conformity, Certificates of Analysis, and Good Manufacturing Certificates.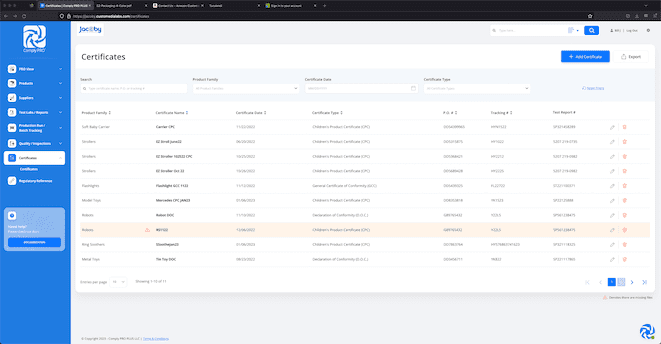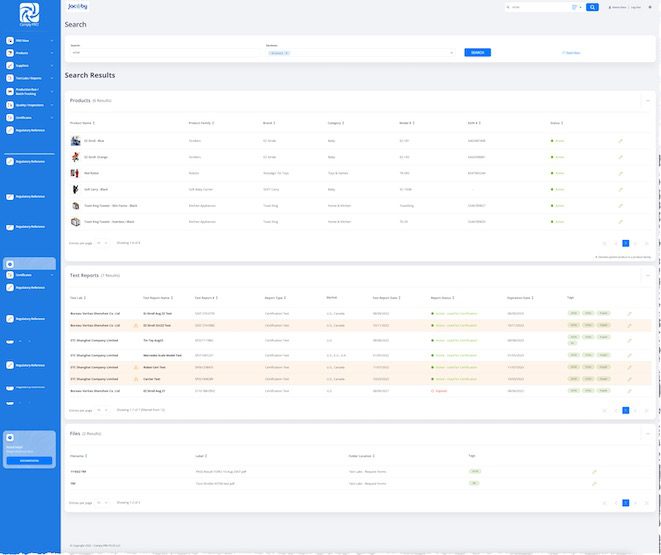 PRO+ Search allows you to search by section or globally to find what you need quickly!
Using tagging as part of your compliance documentation allows you to find anything in any section quickly.
Report Expirations
Expiring test report reminder and auto generated email sent to your factory or lab.
Authorized Rep Ready
Provide access to your Authorized Representative or compliance consultant to handle regulatory inquiries.
Doc & Data Tagging
Tag all documents, data, and events for easier search and retrieval when needed.
Tasks & Projects
Assign team member tasks as internal or associate to product development.
Cloud Based
Work from anywhere, allowing you and team members to be more productive.
Activity Log
See all recent activities since the last time you logged in.
Scheduler
Schedule and view Audits, Inspections, Incoming Shipments and Assign Tasks.
2 Factor Authentication
Decrease risk of unauthorized access via 2FA
Have Questions?.... Schedule a
Demo
We can show you can save time and money and how to protect your brand and streamline sales channel compliance-related activities!